---
Jobtensor is an online portal for companies, universities and job seekers from the fields of natural sciences and technology.

The future of a company stands and falls with the ability to attract and retain the best in its field. This is a particularly challenging task in the field of natural sciences and engineering. Our mission is to create a highly intelligent and efficient way to search for jobs. This is how Jobtensor came into existence.

Jobtensor helps companies of all sizes to attract specialists from the fields of natural sciences IT and technology. Our solutions go far beyond the old "post and pray" of traditional portals. In our Tensorlabs ©, we are researching new paths for candidate search under high pressure and with in-house expertise.

Jobtensor helps the recruiters, HR departments and whole companies to achieve more. We give our clients the right tools to hire the right people and do it easier and faster.

But how can we keep track? Tensorsemantics © combines related disciplines and disciplines, thus eliminating the keyword isolation of traditional portals. This makes finding relevant job advertisements even easier. Imagine the perfect candidate sailing past your company because he did not find your job posting. If companies and applicants do not fit together is the one thing. If they did not even have the opportunity to get to know each other, this is a missed opportunity. Stop missing opportunities.

Kindly check our new search function on https://jobtensor.com/uk/search which we - in all modesty - consider the most sophisticated search feature currently available on the market for job seekers from our field.

======================================================================================

Jobted is the International Career Website used by thousand of communities, schools and universities all over the world that can help people and especially students and unemployed to find a job or an internship quickly, easily and for free.

- 100% free, no registration required.

- More than 950 000 job offers in UK, 900 000 in Germany, 600 000 in France, 800 000 in Italy.

- A "Job Descriptions" section

https://uk.jobted.com/job-descriptions

: a guide to all the most popular jobs, with many tips that will help your students to choose the best way to get the job of their dreams.

Announcement Date

Expiration Date

Details
10.07.2022
31.07.2022
09.06.2022
09.07.2022
06.06.2022
06.07.2022
04.06.2022
04.07.2022
02.06.2022
02.07.2022
31.05.2022
31.06.2022

Assistant Professor / Associate Professor/ Full Professor / Research Fellow (Post-doc)

Beijing Normal University - Zhuhai, China.

12.05.2022
12.06.2022
18.04.2022
18.05.2022
18.04.2022
18.05.2022
15.04.2022
15.05.2022
12.04.2022
12.05.2022

The European Central Bank has launched: Financial Risk Analyst – Risk

Modelling and Valuation [1].

Please share these opportunities with your students by forwarding the

vacancies on job portals or printing them out and showcasing them in

display windows.

TYPE OF CONTRACT: Fixed-term contract, which may be extended subject to

individual performance and organisational needs

WHO CAN APPLY?: EU nationals

SALARY: E/F (1) (minimum full time monthly net salary €4,229 and

benefits, see further information section)

ROLE SPECIALISATION: Financial Risk Modelling

PLACE OF WORK: Frankfurt am Main, Germany

You will be part of the Risk Strategy Division in the Directorate Risk

Management. Our Directorate has 56 staff and is responsible for

proposing policies and procedures that ensure an appropriate level of

protection against financial risks for (i) the ECB in the conduct of

financial market (i.e. investment) operations, and (ii) the Eurosystem

in the conduct of monetary policy operations.

In the Risk Strategy Division, we design and maintain risk management

frameworks and policies for the Eurosystem's monetary policy

operations. We also analyse structural developments in financial markets

and financial regulation, as well as climate change policy, to identify

potential implications for the Eurosystem's risk management

frameworks.

The ECB is an inclusive employer and we strive to reflect the diversity

of the population we serve. We encourage you to apply irrespective of

age, disability, ethnicity, gender, gender identity, race, religious

beliefs, sexual orientation or other characteristics.

As a Financial Risk Analyst, you will:

* contribute to the implementation of risk management projects in the

context of the Eurosystem's credit operations and non-standard

monetary policy measures (e.g. as regards eligibility requirements for

collateral, the valuation of collateral, haircuts and climate change

risks);

* support analytical work within the Risk Strategy Division, including

the preparation of analytical input for the development of the

Eurosystem's risk control frameworks and policies;

* design and maintain valuation methods for collateralised operations

and outright purchases of financial assets;

* develop and maintain liquidity and market risk management models and

prepare analysis based on model simulations;

* develop and maintain IT applications and tools, working with complex

financial databases.

This position will offer excellent opportunities to leverage your

passion for the modelling of financial risk, working closely with other

business areas across the ECB, as well as the national central banks of

the Eurosystem and market participants. You will be part of a dynamic

multicultural team with a wealth of business-related and technical

expertise that strives for continuous innovation to make a positive

impact on the lives of European citizens.

We will provide a wide range of training to support you in your further

professional development.

QUALIFICATIONS, EXPERIENCE AND SKILLS

* a bachelor's degree or equivalent in accounting, business

administration, computer science, economics, econometrics, finance,

physics, mathematics, statistics, a different STEM subject or another

relevant field (click here for details on degree equivalences [2]);

* in addition to the above, a minimum of one year of professional

experience (which can include traineeships) in the field of risk

management, which should include experience of devising financial risk

models and fixed-income valuation methods to control risk exposures

(e.g. statistical distributions, volatility modelling, and value-at-risk

and yield curve modelling);

* practical experience of:

* using data management languages such as SQL at an advanced level;

and

* developing and maintaining risk modelling tools using Python, Matlab,

R or C (at least one of them at an advanced level);

* a solid understanding of the Eurosystem's risk management

framework;

* experience of drafting concise reports, analytical notes and

briefings, coupled with strong presentation skills;

* an advanced (C1) command of English and an intermediate (B1) command

of at least one other official language of the EU, according to the

Common European Framework of Reference for Languages [3].

* a master's degree and/or professional certification in the area of

finance or risk management (e.g. CFA or FRM);

* knowledge of climate change and its implications for financial risk

management;

* a good knowledge of market information services such as Bloomberg or

Reuters.

You engage collaboratively with others. You pursue team goals and learn

willingly from other people's diverse perspectives. You signal any

need for change by explaining it and proposing alternative solutions.

You analyse complex information effectively and can evaluate different

views to arrive at solutions. You know and anticipate stakeholder

needs.You are motivated to be part of our team and to develop and use

your skills and competencies to achieve the objectives of this position.

Temporary appointments may be extended or made permanent subject to

organisational needs and budgetary constraints. This may result in a

staff member with a non-convertible fixed-term contract being offered a

convertible contract in accordance with the ECB Conditions of

Employment.

The contract offered will be fixed-term, the appointment being for two

years as of the exact starting date of the selected person.

For additional information on this specific vacancy, you can contact

Gonzalo Camba-Méndez, Senior Team Lead in the Risk Strategy Division

(

This email address is being protected from spambots. You need JavaScript enabled to view it.

), indicating the reference number

for this recruitment campaign (4931) in the subject line of the email.

APPLICATION AND SELECTION PROCESS

The recruitment process for this position will be conducted remotely. It

will include a written exercise, a presentation and interviews.

If you are not selected for this position but are still considered

suitable, you will be placed on a reserve list (see step 4 of how we

hire [4]), from which you might be considered for similar positions

within the ECB.

Find out how to apply [5] for a position at the European Central Bank.

Read more about joining us [2].

THE EUROPEAN CENTRAL BANK

(If you would like to unsubscribe from these updates, please reply to

this e-mail and we will take you out of our mailing list.)

Any e-mail message from the European Central Bank (ECB) is sent in

good faith, but shall neither be binding nor construed as constituting a

commitment by the ECB except where provided for in a written agreement.

This e-mail is intended only for the use of the recipient(s) named

above. Any unauthorised disclosure, use or dissemination, either in

whole or in part, is prohibited. If you have received this e-mail in

error, please notify the sender immediately via e-mail and delete this

e-mail from your system. The ECB processes personal data in line with

Regulation (EU) 2018/1725. In case of queries, please contact the ECB

Data Protection Officer (

This email address is being protected from spambots. You need JavaScript enabled to view it.

). You may also contact the

European Data Protection Supervisor.

22.02.2022
15.03.2022
22.02.2022
15.03.2022
20.02.2022
10.03.2022
20.02.2022
10.03.2022
02.02.2022
28.02.2022

The European Central Bank has launched: Traineeships in People Analytics

/ Data Science in HR [1].

Please share these opportunities with your students by forwarding the

email to relevant departments/professors, alumni networks, posting the

vacancies on job portals or printing them out and showcasing them in

display windows

ou will be part of the Human Resources (HR) Analytics team in the

Employee Services Division of the Directorate General Human Resources.

Our Directorate General has over 100 members of staff who provide

operational, talent management and advisory services to approximately

4,000 ECB employees.

The task of the HR Analytics team is to enable the Directorate General

to use a data-driven and evidence-based approach to best serve the needs

of employees and the organisation. In particular, the team provides data

science services to stakeholders in the Directorate General and in other

business areas, supporting their activities, generating insights to

shape HR strategy, and using data analytics to optimise the impact of HR

policies on working conditions, well-being and performance.

The team comprises 10-12 highly skilled data science and analytics

professionals who collaborate with colleagues from across our

Directorate General.

The ECB is an inclusive employer and we strive to reflect the diversity

of the population we serve. We encourage you to apply irrespective of

age, disability, ethnicity, gender, gender identity, race, religious

beliefs, sexual orientation or other characteristics.

As a trainee in HR Analytics, you will:

* develop statistical analyses and data science solutions and provide

recommendations for strategic HR decision-making and HR policy

development;

* contribute to exploring new tools and technologies, testing them and

developing prototypes;

* support the development of a data and evidence-based HR approach by

reviewing research literature, generating insights from available

reports and tools, and training colleagues to integrate them into their

work;

* contribute to transforming and visualising HR datasets for various

projects and tasks.

The position offers you excellent opportunities to learn from

experienced data scientists, gain hands-on analytics experience and work

with leading technologies in a dynamic and inspiring environment. You

will be part of a multicultural team that strives for continuous

innovation to make a positive impact on the lives of European citizens.

QUALIFICATIONS, EXPERIENCE AND SKILLS

* a bachelor's degree or higher in data science, statistics,

mathematics, computer science, human resources management, business

administration, economics, social and organisational psychology,

business information systems, business analytics, or another relevant

discipline;

* as a minimum, advanced skills in R or in another statistical

programming language;

* excellent analytical and conceptual skills, and an interest in

complex technical content;

* a good knowledge of the MS Office package;

* an advanced (C1) command of English and an intermediate (B1) command

of at least one other official language of the EU, according to the

Common European Framework of Reference for Languages [2].

* experience in HR analytics;

* experience with SQL, Tableau and/or big data technologies;

* experience in data cleaning, data transformation and data

visualisation.

You are curious and eager to learn and want to further develop your

ability to analyse complex information. You are keen to collaborate with

others, pursue team goals and learn from other people's diverse

perspectives. You strive to know and anticipate stakeholder needs and

will signal any need for change and propose alternative solutions.

You are motivated to contribute to the ECB's mission, to serve the

citizens of the EU as a member of a public institution and to work with

colleagues from all over Europe. You are keen to be part of our team and

to use your skills and competencies to achieve the objectives of this

position.

EU nationals eligible for our traineeship programme.

* be a national of a Member State of the EU or of an acceding country;

* be at least 18 years old;

* HAVE COMPLETED AT LEAST A FIRST CYCLE QUALIFICATION (MINIMUM

BACHELOR'S DEGREE);

* be fluent in English and in another official language of the EU.

FOLLOWING THEIR MOST RECENT QUALIFICATION CANDIDATES SHOULD:

* have a maximum of 12 months' professional experience;

* have been a trainee for no more than six months;

* not have been an ECB trainee or have worked for the ECB previously

Traineeship of between 6 and 12 months in total.

APPLICATION AND SELECTION PROCESS

Further information on how to join us is available on our website [3].

The recruitment process for this position will include a remote written

test and an online interview.

11.01.2022
31.01.2022

The European Central Bank has launched a new traineeship: Student

Research Assistant Traineeship Programme – Senior Management/Household

Finance and Consumption Network [1].

You will be part of the Directorate General Research (DG/R), which

carries out and coordinates economic research on monetary policy,

financial stability, and the ECB's banking supervision and regulatory

activities. In your role as a Student Research Assistant Trainee, you

will support DG/R's economists and managers in their economic research

and policy analysis. Depending on your area of expertise, you will be

assigned to one of two teams:

* the Senior Management team, which works on a broad range of research

topics in close collaboration with Isabel Schnabel, who sits on the

ECB's Executive Board;

* the Household Finance and Consumption Network (HFCN) team, which is

responsible for analysing household heterogeneity in the euro area and

interacts closely with national central banks through the HFCN research

network.

We are currently working on analysis exploring the effectiveness and

side effects of unconventional monetary policy measures, including their

impact on the banking/financial sector and different groups of

households.

The ECB is an inclusive employer and we strive to reflect the diversity

of the population we serve. We encourage you to apply irrespective of

age, disability, ethnicity, gender, gender identity, race, religious

beliefs, sexual orientation or other characteristics.

As a Student Research Assistant Trainee, you will:

* construct and maintain monetary, financial and economic databases;

* present data in conjunction with basic economic and statistical

analysis;

* develop mathematical, statistical and econometric procedures for

research projects;

* support and maintain software tools and hardware installations;

* help to maintain internet and intranet systems within DG/R.

As a participant in the Student Research Assistant Traineeship

Programme, you will have the opportunity to work closely with our

economists and management. You will support them in academic research

projects and work of an operational nature, such as the preparation of

policy-related notes for the ECB's Executive Board. This will enable

you to develop your analytical skills and gain insight into the ECB's

research activities and policymaking processes. The programme will also

expose you to new ideas and stimuli that will provide a useful

foundation for your future career and/or postgraduate studies. You will

be part of a multicultural team that strives for continuous innovation

to make a positive impact on the lives of European citizens.

QUALIFICATIONS, EXPERIENCE AND SKILLS

* for a traineeship paid at €1,940 a master's degree and at least

two years of PhD studies in economics, statistics, finance, computer

science, mathematics or a related field;

* for a traineeship paid at €1,070 a bachelor's degree or higher in

economics, statistics, finance, computer science, mathematics or a

related field;

* an excellent command of Stata;

* familiarity with one or more of the following databases/data

providers: Bloomberg/Eikon, Thomson Reuters Datastream, Haver Analytics,

Bureau van Dijk banking data (BankFocus), Bureau van Dijk firm-level

data (Orbis), Fitch Connect/FactSet, SNL Financial, Dealogic or the ECB

Household Finance and Consumption Survey;

* familiarity with one or more of the following research techniques:

difference-in-difference or propensity score matching estimators, panel

data analysis for microdata, machine learning algorithms, discrete

response models, censored regression models, textual analysis, querying

databases or DSGE models;

* a very good knowledge of spreadsheet and database software such as

Microsoft Excel, SQL, Microsoft Access and FAME (including an ability to

use Excel's graphing, pivot table and summary statistics functions);

* a good knowledge of the MS Office package;

* experience in compiling and analysing large microeconomic databases;

* an advanced (C1) command of English and an intermediate (B1) command

of at least one other official language of the EU, according to the

Common European Framework of Reference for Languages [2].

* for a traineeship paid at €1,070 a master's degree (or at least

one complete year of studies towards a master's degree) in economics,

statistics, finance, computer science, mathematics or a related field;

* knowledge of other high-level programming languages, such as MATLAB,

Python or R.

You are curious and eager to learn, and want to further develop your

ability to analyse complex information. You are keen to collaborate with

others, pursue team goals and learn from other people's diverse

perspectives. You strive to know and anticipate stakeholder needs, and

will signal any need for change and propose alternative solutions.

You are motivated to contribute to the ECB's mission, to serve the

citizens of the EU as a member of a public institution and to work with

colleagues from all over Europe. You are keen to be part of our team and

to use your skills and competencies to achieve the objectives of this

position.

WHO CAN APPLY? EU nationals eligible for our traineeship programme.

Traineeship/PhD traineeship of between 6 and 12 months in total.

APPLICATION AND SELECTION PROCESS

Further information on how to join us is available on our website [3].

The recruitment process for this position will include an online

interview.

If you are not selected for this position but are still considered

suitable, you will be placed on a reserve list for 12 months from the

closing date for applications, from which you might be considered for

similar positions within the ECB.

14.12.2021
31.12.2021

Associate Professor in Digital Marketing

Audencia Business School - Nantes, France.

14.12.2021
31.12.2021

Assistant Professor in Digital and Artificial Intelligence in Marketing

SKEMA Business School - Paris or Lille, France.

12.12.2021
25.12.2021

Open Rank Professorship of Entrepreneurship

Aalto University School of Business - Helsinki, Finland.

12.12.2021
25.12.2021

Faculty Positions in Blockchain and Digital Currency

University of Nicosia - Nicosia, Cyprus.

10.12.2021
25.12.2021
08.12.2021
23.12.2021

Faculty Position in Computer Science (Artificial Intelligence for Business and Management)

SKEMA Business School - Montréal, Canada.

08.12.2021
23.12.2021

Teaching Stream / Associate Professor in Operations Management and Information Systems

Schulich School of Business, York University - North York, Canada.

06.12.2021
25.12.2021

Teaching Stream / Associate Professor in Operations Management and Information Systems

Schulich School of Business, York University - North York, Canada.

05.12.2021
25.12.2021

Faculty Position in Entrepreneurship

Ivey Business School, Western University - London, Canada.

05.12.2021
25.12.2021
17.11.2021
30.11.2021

Applied Superconductivity Scientist (CERN)

Company Description At CERN, the European Organization for Nuclear Research, physicists and engineers are probing the fundamental structure of the universe.

15.11.2021
30.11.2021

Applied Physicist in Research and Development of Advanced Gaseous Detector Technologies (CERN)

Company Description At CERN, the European Organization for Nuclear Research, physicists and engineers are probing the fundamental structure of the universe.

15.11.2021
30.11.2021

Research Coordinator in Medical Biochemistry and Biophysics (Karolinska Institute Department of Medical Biochemistry and Biophysics)

Research coordinator position DO YOU WANT TO CONTRIBUTE TO RNA STRUCTURAL STUDIES IN MEDICINE?

13.11.2021
13.11.2021

Associate Professor in Materials Physics (Uppsala University Department of Physics and Astronomy)

Associate Professor in Materials Physics with specialization in Additive Manufacturing of Magnetic Materials Published: 2021-10-11 Uppsala University

10.11.2021
25.11.2021

Postdoctoral Positions in Analytical Chemistry/Molecular Biology/Microbiology (Gothenburg University Department of Marine Sciences)

Postdoctoral positions in Analytical Chemistry / Molecular Biology / Microbiology Type of employment: Fixed-term employment, 2 years with possibility for rene

10.11.2021
25.11.2021
10.11.2021
25.11.2021

Researcher in Greenhouse Technology, Covering and Screen Materials (Wageningen University)

Researcher in Greenhouse Technology, Covering and Screen Materials Published onOctober 30, 2021 Location Wageningen

05.11.2021
20.11.2021

Open Rank Professorship of Entrepreneurship

Aalto University School of Business - Helsinki, Finland.

05.11.2021
20.11.2021

Postdoc in Enterprise Foundations

Copenhagen Business School - Copenhagen, Denmark.

27.07.2021
15.08.2021

Postdoctoral position (f/m/d) in (Physical) Chemistry, Chemical Engineering, Physics or in related physical sciences or engineering fields

23.07.2021
15.08.2021

Wissenschaftlicher Referent (m/w/d) im Fachgebiet "Planfeststellung und Genehmigung von Endlagern"

Wissenschaftlicher Referent (m/w/d) im Fachgebiet "Planfeststellung und Genehmigung von Endlagern" - Bundesamt für die Sicherheit der nuklearen Entsorgung (BASE) - academics.com

23.07.2021
10.08.2021
https://www.academics.com/jobs/postdoctoral-position-f-m-d-in-physical-chemistry-chemical-engineering-physics-or-in-related-physical-sciences-or-engineering-fields-helmholtz-zentrum-berlin-fuer-materialien-und-energie-gmbh-berlin-1045077?mj_campaign=nl_ref&mj_content=zeitde_text_link_x&mj_medium=nl&mj_source=int_zonaudev_newsletter&user_token=SFMyNTY.g3QAAAACZAAEZGF0YWIBOFw_ZAAGc2lnbmVkbgYANJTm43oB.5kbkMvrY-aViu172k_HhD8kTw5tRaGVR0IVVrbOGLcc&utm_campaign=jobnewsletter&utm_med…
14.07.2021
30.07.2021

Assistant Professors in Entrepreneurship, International Business, Organization and Management Theory, Organizational Behavior...

Bocconi University - Milan, Italy.

14.07.2021
30.07.2021

Research Associate / Project Manager

ZHAW School of Management and Law - Zürich, Switzerland.

14.07.2021
30.07.2021

Assistant Professor in Sustainable Business

NHH Norwegian School of Economics - Bergen, Norway.

14.07.2021
30.07.2021

Associate / Full Professor in Strategy, Marketing, Decision Making, Big Data / AI, Operations and Supply Chain Management

Moscow School of Management SKOLKOVO - Moscow, Russian Federation.

14.07.2021
30.07.2021

Lecturer in Entrepreneurship

Utrecht University - Utrecht, Netherlands.

12.07.2021
30.07.2021

Lecturer in Materials Science and Engineering (King Fahd University of Petroleum and Minerals)

12.07.2021
30.07.2021

Designated Assistant Professon Position in Gamma-ray Astrophysics with CTA at ISEE, Nagoya University

12.07.2021
30.07.2021

Lecturer-in-energy-frontier-physics

12.07.2021
30.07.2021

PhD Fellow in Physics (University of Copenhagen Niels Bohr Institute)

08.02.2021
28.02.2021
18.01.2021
30.01.2021

Faculty Position in Physics Pedagogy (Ryerson University Department of Physics)

Tenure Track Position in Physics Pedagogy FOS, Physics Posted: January 12, 2021 Deadline to Apply: Monday, February 15, 2021 Tenure Track Position in Phys

13.01.2021
30.01.2021

PhD Researcher in Data Science

HEC Liège, Management School of the University of Liège - Liège, Belgium.

27.10.2020
15.11.2020
25.10.2020
10.11.2020
01.10.2020
15.10.2020

Associate Lecturer / Lecturer / Senior Lecturer or Associate Professor in Project Management

University of Sydney - Sydney, Australia.

01.10.2020
13.10.2020

Assistant Professor in Urban Economics, Urban Sociology, or Geography

ESSEC Business School - Paris, France.

04.09.2020
15.09.2020

Research Assistant/Associate (Fixed Term) - Job Opportunities - University of Cambridge

01.09.2020
15.09.2020

Postdoctoral Fellow in Condensed Matter Theory (University of Hong Kong Department of Physics)

01.09.2020
15.09.2020

PhD Position in Hyperpolarized 13C Magnetic Resonance Imaging (Technical University of Munich)

01.09.2020
15.09.2020

Faculty Positions in Physics and Astronomy (Brigham Young University Department of Physics and Astronomy)

28.07.2020
15.08.2020

University of Konstanz looks for Research assistant / Post-doctoral researcher (f/m/d) in the Environmental Physics Group at the Limnological Institute in Konstanz - apply now!

University of Konstanz looks for Research assistant / Post-doctoral researcher (f/m/d) in the Environmental Physics Group at the Limnological Institute in Konstanz - apply now!

15.07.2020
30.07.2020

Assistant Professor of Theoretical Particle Physics (Technical University of Munich Department of Physics)

Tenure Track Assistant Professor in Theoretical Particle PhysicsThe Technical University of Munich (TUM) invites applications for the position of Tenure Track A

15.07.2020
30.07.2020

Professor of Orbital Mechanics and Space Mission Design (Technical University of Munich)

The Technical University of Munich (TUM) invites applications for the position ofProfessor in » Orbital Mechanics and Space Mission Design «W2 Tenure Track Assi

15.07.2020
30.07.2020
15.07.2020
30.07.2020
07.07.2020
25.07.2020
02.07.2020
17.07.2020
18.06.2020
30.06.2020

Professor of Machine Learning in Business Analytics

Technical University of Munich (TUM) - Munich, Germany.

18.06.2020
30.06.2020

Lecturers, Assistant, Associate or Full Professors in Strategy, Marketing, Finance, Digital, Supply Chain, HR and CSR

Montpellier Business School - Montpellier, France.

30.05.2020
15.06.2020
30.05.2020
15.06.2020
30.05.2020
15.06.2020
30.05.2020
15.06.2020
11.05.2020
26.05.2020
11.05.2020
26.05.2020
03.02.2020
18.02.2020

Researcher in Physics (University of Twente)

03.02.2020
18.02.2020

Postdoc Position in Theoretical Condensed Matter Physics (University of Copenhagen)

03.02.2020
18.02.2020
01.02.2020
16.02.2020

Senior Professor of Theoretical Physics (Dublin Institute for Advanced Studies)

01.02.2020
16.02.2020

PhD Position in Adaptive Optics in Transmission Electron Microscope (University of Antwerp)

01.02.2020
16.02.2020

PhD Student in Physics (Ghent University)

15.01.2020
30.01.2020

Full Professor Thin Film Physics and XUV Optics (University of Twente)

Job description Thin film physics is spectacularly driving the development of optics for the short, XUV wavelength range. The understanding and control of a

10.12.2019
31.12.2019

PhD position, Electrocatalysis and aspects of…

10.12.2019
31.12.2019

https://physicaloxy.com/postdoctoral-in-nuclear-photonics-y…

https://physicaloxy.com/full-professor-in-industrial-chemis…
https://physicaloxy.com/research-associate-intheoretical-ph…
https://physicaloxy.com/scientific-assistant-in-applied-phy…
https://physicaloxy.com/phd-position-in-hydrogeochemistry-m…

In the physics department at the Technische Universität Darmstadt a position for a…

10.12.2019
31.12.2019

Job description Thin film physics is spectacularly driving the development of optics for the short, XUV wavelength range. The understanding and…

05.12.2019
31.12.2019

Post-Doctoral Researcher in Physics At the University of Jyväskylä, everyone can find their…

03.12.2019
31.12.2019

PhD fellow at the Cosmic Dawn Center The Cosmic DAWN Center, Faculty of Science at…

01.12.2019
31.12.2019

Professor of Computational Astrophysics Niels Bohr Institute Faculty of ScienceUniversity of…

29.11.2019
29.12.2019

Jobs in China

https://physicaloxy.com/tenure-track-faculty-positions-in-e…
https://physicaloxy.com/40-faculty-members-in-theoretical-a…
https://physicaloxy.com/postdoc-positions-in-experimental-c…
https://dukekunshan.edu.cn/…/faculty_positions_in_biogeoche…
https://dukekunshan.edu.cn/…/faculty_positions_in_chemistry…
https://dukekunshan.edu.cn/…/jd_-_postdoctoral_fellow_resea…

27.11.2019
31.12.2019

Multiple Postdoc Positions available in Experimental Condensed Matter Physics The School of Physics and Astronomy in Shanghai Jiao Tong…

29.10.2019
29.11.2019

Continental Automotive Group Romania angajeaza Employee Benefits Specialist HR­ TSR in Craiova, Arad, Timișoara

29.10.2019
29.11.2019

Saarbrücken is your place to be if you are looking for one of the best places internationally to pursue a PhD in Computer Science.

29.10.2019
29.11.2019
10.10.2019
10.11.2019

Professorship for BUSINESS ANALYTICS AND TECHNOLOGY TRANSFORMATION In accordance with § 94 Sec. 2 subpara.

07.09.2019
07.10.2019

What funding can you get for research positions abroad in the EU? European and national grants open to EU nationals.

05.09.2019
05.10.2019

Description : The Department of Physics at the University of Toronto invites applications for one…

26.08.2019
01.10.2019

Description : The Department of Physics at the University of Toronto invites applications for…

25.08.2019
25.09.2019

Ready to check into trivago? Below you'll find a detailed overview of all our open positions. Have a look around, and if you're motivated to go the distance, hit apply and show us what you're made of!

25.08.2019
25.09.2019

We invite applications for several open…

21.07.2019
31.07.2019

Job Description: The Department of Natural Sciences and Mathematics invites applications…

21.07.2019
31.07.2019

Summary of Job Duties The Postdoctoral Researcher in Water Chemistry Management will…

21.07.2019
30.07.2019

The School of Physics & Astronomy is seeking an ambitious Research Fellow to work on modelling…

16.07.2019
30.07.2019

Vontobel is a globally-oriented Swiss wealth & asset manager, which was first established in Zurich in 1924 and has around 1,700 employees worldwide.

12.07.2019
31.07.2019

Senior Lecturer / Lecturer in Accounting Essex Business School Essex Business School champions responsible management and sustainable business, and its mission is to offer a transformative education and research excellence that has a positive impact on business and society. The Accounting Group at E...

12.07.2019
31.07.2019

Tenure-track Faculty Position in "Business and Society"ESADE Business School, Department of Society, Politics, and Sustainability ESADE Business School seeks to appoint a tenure-track faculty member at the rank of assistant professor in the area of "Business and Society". The successful cand...

11.07.2019
31.07.2019

CAREERS.SMARTRECRUITERS.COM

Careers at CERN. Find Great Talent with Career Pages. | powered by SmartRecruiters | <a…

04.07.2019
31.07.2019

The Department of Mathematics ( www.math.ethz.ch ch) and the Department of…

02.07.2019
31.07.2019

The Department of Physics at ZhejiangUniversity is expanding its research scope and seeking a number of outstanding candidates to fill in faculty…

01.07.2019
30.07.2019

Siemens Gamesa Renewable Energy angajeaza Continuous Integration Engineer in Brande

01.07.2019
25.07.2019

European Patent Office angajeaza Engineers and Scientists in München, Haga

18.06.2019
30.06.2019
10.05.2019
30.05.2019

Search the latest energy jobs in the oil and gas, renewable energy, nuclear, power and petrochemical sectors today with Energy Jobline, the world's leading energy and engineering job site.

02.05.2019
30.05.2019
02.05.2019
30.05.2019
19.03.2019
01.05.2019

(W2; 40 hours/week) Funding for the position is available for five years. The position is available from January 1, 2020 or later. Job Description…

20.02.2019
01.04.2019
15.02.2019
01.04.2019

Assistant Professors in Macroeconomics, Data Analytics, Strategy, Entrepreneurship, Finance, Corporate Finance Utrecht University School of Economics Position overview The Utrecht University School of Economics (U.S.

10.02.2019
01.04.2019

8-9 Doctoral Studentships in Business Administation Diary id: PAR 2018/1608 Employment level: Time limited employment (temporary) Location: Department of Business Administration Apply by: 2019-03-01 With its more than 3,700 full-time students, 470 employees, 160 international partner universities, i...

05.02.2019
01.04.2019

Doctoral Studentship in Economic Geography Diary id: PAR 2018/1610 Employment level: Time limited employment (temporary) Location: Department of Business Administration Apply by: 2019-03-01 With its more than 3,700 full-time students, 470 employees, 160 international partner universities, its main s...

01.02.2019
01.04.2019

Associate / Full Professor in INTERNATIONAL NEGOTIATION (IN19) or SALES MANAGEMENT (S19) FACULTY POSITION In view of its continuous growth, the Marketing and International Negotiation Department at IÉSEG School of Management invites applications for a Full-time Permanent Position in International N...

25.01.2019
01.04.2019

The DFG Research Training Group "Strong and Weak Interactions - from Hadrons to Dark Matter" at the University of Münster, Germany, invites…

20.01.2019
11.02.2019

Wiss. Employee (Postdoc) Full-time employment Temporary up to 3 years Salary bracket 13 TV-L…

18.01.2019
28.02.2019

URL for further information…

18.01.2019
28.02.2019

Applications are invited for appointment as Post-doctoral Fellow in Experimental Condensed Matter Physics in the Department of Physics (Ref.:…

18.01.2019
28.02.2019

The University of Helsinki is among the leading multidisciplinary research universities in the…

18.01.2019
28.02.2019

The EMAT research group at the Faculty of Science (University of Antwerp) is seeking to fill a PhD position in the area of "3D Structure…

15.01.2019
28.02.2019

code no. 2019/WB 1 The place of employment is Geesthacht, Germany. border Research at HZG…

14.01.2019
28.02.2019

Microfluidics is an exciting and rapidly growing field leading to many exciting novel concepts…

03.01.2019
01.03.2019

Department of Physics, Faculty of Science at University of Copenhagen is offering a PhD scholarship in condensed matter theory…

03.01.2019
28.02.2019

Salary The starting salary will be from £35,211 up to £43,267 on Grade F depending on qualifications and experience. Package…

03.01.2019
28.02.2019

Open to new ideas. Since 1365. The University of Vienna is a research university with high international visibility and a wide range of…

01.01.2019
28.02.2019

The Max Planck Schools invite outstanding students holding a Bachelor's or Master's…

19.12.2018
25.02.2018

A vacancy for an outstanding PhD student is available in the Center for Molecular Modeling (CMM,

http://molmod.ugent.be

) at Ghent…

17.12.2018
25.02.2018

https://physicaloxy.com/announcement,a5975.html
https://physicaloxy.com/announcement,a5960.html
https://physicaloxy.com/announcement,a5895.html
https://physicaloxy.com/announcement,a5896.html
https://physicaloxy.com/announcement,a5900.html
https://physicaloxy.com/announcement,a5903.html
https://physicaloxy.com/announcement,a5904.html
https://physicaloxy.com/announcement,a5915.html
https://physicaloxy.com/announcement,a5919.html
https://physicaloxy.com/announcement,a5890.html

Post-doctoral position at the LOG, Laboratory of Oceanology and Geosciences, Wimereux, France 12 months, beginning early 2019…

12.11.2018
28.01.2019

Uppsala University is a comprehensive…

12.11.2018
28.01.2019

We are recruiting a student for doctoral education.For more information regarding doctoral (PhD) education, see:

http://www.ki.se/doctoral.

9.11.2018
06.02.2019
7.11.2018
18.01.2018

Thomas F. Gleed Endowed Chair in Business Administration The Thomas F.

7.11.2018
21.01.2018

The Faculty of Business and Economics of the University of Lausanne…

7.11.2018
18.01.2018
7.11.2018
18.01.2018
7.11.2018
18.01.2019
5.11.2018
30.11.2018

Deriving exact solutions to a specific nonlinear differential equation using some analytical methods. Searching for and ordering known solutions. Performing some numerical solutions for the nonintegrable systems. Typing the results using Latex and preparing the associated figures and animations.

1.11.2018
31.12.2018

Uppsala University is a comprehensive research-intensive university with a strong international…

1.11.2018
31.12.2018

We are looking for two highly-motivated Postdocs with excellent laboratory skills for performing state-of-the-art atomic physics experiments within the…

30.10.2018
15.12.2018

Ph.D. in physics, astrophysics, or other related fields,Demonstrated potential to conduct a vigorous and significant research program as…

30.10.2018
12.11.2018

Applications are invited for a Postdoctoral Research Assistant in laser-driven plasma…

30.10.2018
15.11.2018

The Institute for Theoretical Physics (ITP) is seeking highly motivated candidates for appointment to a tenure-track position:…

1.10.2018
11.11.2018
PhD and Postdoc positions, available jobs in Sciences:
https://physicaloxy.com/announcement,a5685.html
https://physicaloxy.com/announcement,a5603.html
https://physicaloxy.com/announcement,a5602.html
https://physicaloxy.com/announcement,a5687.html
https://physicaloxy.com/announcement,a5686.html
https://physicaloxy.com/announcement,a5688.html
https://physicaloxy.com/announcement,a5691.html
https://physicaloxy.com/announcement,a5690.html
https://physicaloxy.com/announcement,a5689.html
https://physicaloxy.com/announcement,a5689.html
https://physicaloxy.com/announcement,a5615.html
01.11.2017
11.11.2017
PhD and Postdoc positions, available jobs in Sciences:
https://physicaloxy.com/announcement,a5685.html
https://physicaloxy.com/announcement,a5603.html
https://physicaloxy.com/announcement,a5602.html
https://physicaloxy.com/announcement,a5687.html
https://physicaloxy.com/announcement,a5686.html
https://physicaloxy.com/announcement,a5688.html
https://physicaloxy.com/announcement,a5691.html
https://physicaloxy.com/announcement,a5690.html
https://physicaloxy.com/announcement,a5689.html
https://physicaloxy.com/announcement,a5689.html
https://physicaloxy.com/announcement,a5615.html
| | |
| --- | --- |
| Crt. No | Employer |
| 1 | Camera de Comerţ şi Industrie a judeţului Dolj |
| 2 | Popeci Utilaj Greu Craiova |
| 3 | Mitliv |
| 4 | Centrul Comercial Mercur |
| 5 | Redac Craiova |
| 6 | Auchan, - Hypermarket Craiova |
| 7 | RAT Craiova |
| 8 | Hotel/Restaurant Helin |
| 9 | SC Marshal Turism Craiova |
| 10 | Elpreco Craiova |
| 11 | ITM Dolj |
| 12 | Pocaviso GSM |
| 13 | Compania de Apa |
| 14 | Policolor |
| 15 | Metalcom |
| 16 | AJOFM Dolj |
| 17 | Valdirtour |
| 18 | Uniqa |
| 19 | Gazeta de Sud |
| 20 | Golden House |
| 21 | SC DOMO RETAIL SA |
| 22 | SIF Oltenia |
| 23 | Profesional Consulting |
| 24 | Ilex GSM |
| 25 | Compania de Apă Oltenia |
| 26 | Casa de Pensii Dolj |
| 27 | Omniasig |
| 28 | CEC Bank |
| 29 | BRD |
| 30 | Generali ARDAF |
| 31 | Intesa Bank |
| 32 | Invest Trust – SSIF1 |
| 33 | Lemcor |
| 34 | Mercur |
| 35 | Consiliul Judeţean Dolj |
| 36 | Primăria Municipiului Craiova |
| 37 | RAT Craiova |
| 38 | Audicontevex |
| 39 | Audit şi Expertiză |
| 40 | SC AMT SERVICE SRL |
| 41 | SC CONEVEX SRL |
| 42 | SC Eurocar Impex SRL |
| 43 | Softronic |
| 44 | Compania de Apa |
| 45 | ADR SV Oltenia |
| 46 | Elpreco |
| 47 | Softronic |
| 48 | ICSU "CS Nicolaescu-Plopsor" |
| 49 | Direcţia Regională a Vămilor Craiova |
| 50 | Casa Noastră |
| 51 | Directia Generala a Finantelor Publice Dolj |
| 52 | Casa Judeteana de Asigurari de Sanatate Dolj |
| 53 | Pirelli România |
| 54 | Directia Regionala de Statistica Dolj |
Workshop Photos "The first steps in the career of an optometrist", University of Craiova, November 10, 2017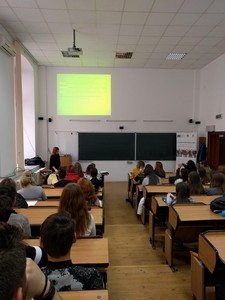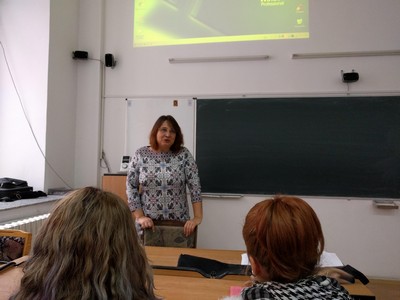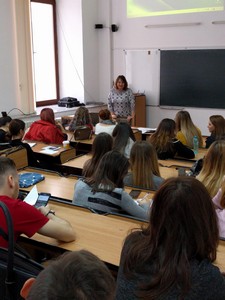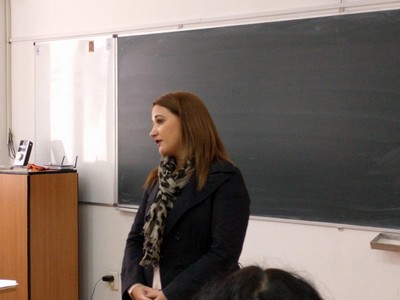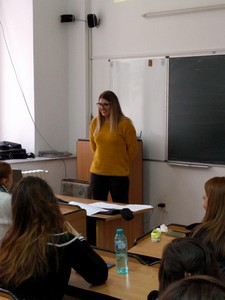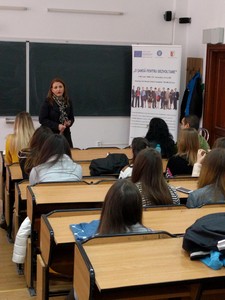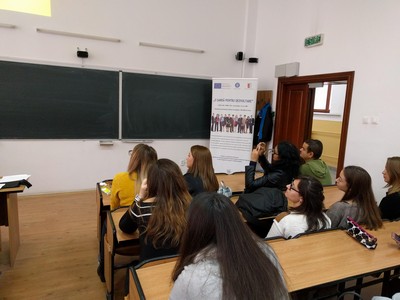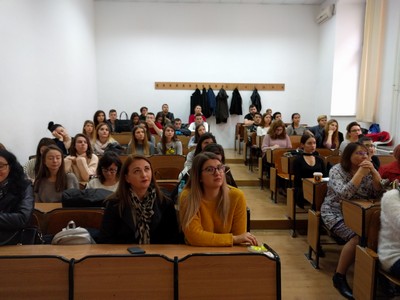 Postgraduate training programs, Development programs and Training programs at University of Craiova, Romania
| | | | | | |
| --- | --- | --- | --- | --- | --- |
| # | Course Title | Program Type | Length (hours) | Access condition | Certification |
| 1 | | Postgraduate training program and continuous professional development | 360 hours | Bachelor's degree | Certificate of professional competence attestation |
| 2 | | Postgraduate training program and continuous professional development | 248 hours | Bachelor's degree | Certificate of professional competence attestation |
| 3 | | Postgraduate training program and continuous professional development | 132 hours | Bachelor's degree | Certificate of professional competence attestation |
| 4 | | Postgraduate training program and continuous professional development | 100 hours | Bachelor's degree | Certificate of professional competence attestation |
| 5 | Physico-chemical analysis Iin the field of environmental protection | Postgraduate training program and continuous professional development | 120 hours | Bachelor's degree | Certificate of professional competence attestation |
| 6 | GIS - Geographic Information Systems | Postgraduate training program and continuous professional development | 80 hours | Bachelor's degree | Certificate of professional competence attestation |
| 7 | Trainer | Development program | 90 hours | Bachelor's degree | graduation certificate |
| 8 | Computer skills | Development program | 90 hours | High school | graduation certificate |
| 9 | Project manager | Development program | 30 hours | Bachelor's degree | graduation certificate |
| 10 | Entrepreneurial skills | Development program | 90 hours | High school | graduation certificate |
| 11 | PR and communication assistant | Development program | 90 hours | High school | graduation certificate |
| 12 | English language course | Training program | 60 hours | High school | Language skills certificate |
| 13 | Bulgarian language course | Training program | 60 hours | High school | Language skills certificate |
Training program at

Regional Development Foundation, Vidin, Bulgaria
| | | | | | |
| --- | --- | --- | --- | --- | --- |
| # | Course Title | Program Type | Length (hours) | Access condition | Certification |
| 1 | Roumanian language course | Training program | 60 hours | High school | Language skills certificate |
Qualification courses at D. A. Tsenov Academy of Economics, Svishtov, Bulgaria
| | | | | | |
| --- | --- | --- | --- | --- | --- |
| # | Course Title | Program Type | Length (hours) | Access condition | Certification |
| 1 | | Qualification course | 100 hours | High school | Professional training certificate |
| 2 | Entrepreneurship E2 | Qualification program | 100 hours | High school | Professional training certificate |
Project beneficiary adress: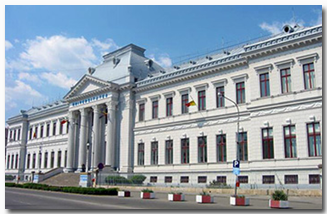 UNIVERSITY OF CRAIOVA, 13 A.I. Cuza Street, Craiova, Dolj county, Romania
Phone: +40 251 411317,
Fax: +40 251 411317
Website: robgcareers.ucv.ro
Project Manager E-mail: This email address is being protected from spambots. You need JavaScript enabled to view it.
Project Partner 1 Contacts: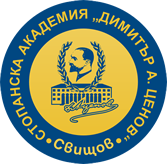 D.A. TSENOV ACADEMY OF ECONOMICS, 2 Em. Chakarov Str., 5250 Svishtov, Bulgaria
Phone: (0631) 66 201,0882 552509
Fax: (0631) 87 355, 0882 612736
E-mail: This email address is being protected from spambots. You need JavaScript enabled to view it.
Website: https://www.uni-svishtov.bg
Project Partner 2 Contacts: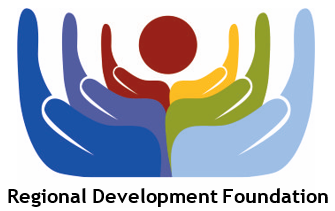 REGIONAL DEVELOPMENT FOUNDATION, 93 Hristo Botev Str., Vidin 3700, Bulgaria,
Phone: +359 886 402 785,
E-mail: This email address is being protected from spambots. You need JavaScript enabled to view it.
Website: www.frr-bg.org
Announcement about the selection of the target group
The University of Craiova, in association with D.A. Tesenov Academy of Economic Sciences and Regional Development Foundation, are implementing the cross-border project - "A chance for development" between May 2017 and April 2019.
The Project - "A chance for development" aims at increasing the employment capacity by both developing professional skills and ensuring a better communication between employers and individuals looking for a job in Dolj County, Vidin County and Veliko Tarnovo County. Its priority is to insert both students and graduates of higher education into the labor market at the level of the implementation region of the project.
Included activities:
Professional training of the target group in the following areas: optics and optometry, radiotherapy, pollution and protection of the environment, acoustics and audiometry, English language, Romanian language, informatics, geographic information systems;

Activities providing entrepreneurial skills, trainer skills, PR and communication assistant skills, project manager skills;

Setting up a Romanian-Bulgarian center for career development and recruitment;

Organizing thematic meetings between employers and individuals looking for a job;

Working visits for students and teachers to potential employers in Bulgaria and Romania.
Requirements for the project's target group:
Bachelor's degree students (Bachelor's degree studies) and Master's degree students (Master's degree studies) – preferably enrolled in the Faculty of Sciences, Faculty of Economics and Business Administration and Faculty of Letters;

unemployed or individuals looking for a job;

graduates of higher education studies.
IMPORTANT NOTICE – all individuals from the target group must have their domicile in Dolj County
Applications will be submitted during office hours 10.00-12.00 (Monday, Tuesday, Wednesday), 17.00-18.00 (Thursday, Friday), room 222, University of Craiova, A.I. Cuza street, no.13 - start date: 29.05.2017.
Contact person:
Manager of target group:
Ciora Liviu Ion, Ph.D., Associate Professor; telephone no.:0722951738
Registration period: 29 May - 15 August 2017
Below, you have links for Statutary Declaration and Application Form for the target group:
Application Form for the target group
On November 10, 2017, at 10 o'clock, room C124 will be held the presentation "First steps in the career of optometrist".
Venue: University of Craiova, A. I. Cuza str., No. 13, Hall C124
participants:

Silvia Ţîntă - Representative of OPTIMED
Eliza Golgojan - representative of Dr. Davidescu Medical Center
Maria Mirabela Budoace - representative of OPTIBLU
Dana Staicu - representative of BELLE OPTIQUE
Cristina Cerbulescu - Independent
Email Project Manager: This email address is being protected from spambots. You need JavaScript enabled to view it.
Photo Gallery from the Workshop "First Steps in Optometrist Career", 10 nov. 2017