The Career Center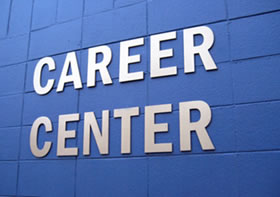 The Romanian-Bulgarian Career and Recruitment Center will be established by the Project Leader - University of Craiova, at its headquarters in A.I. Cuza, Nr.13, room 223.
The Romanian-Bulgarian Career and Recruitment Center will facilitate the inclusion in the labor market and professional mobility of the unemployed, students and graduates from the region of implementation: Dolj, Vidin and Veliko Tarnovo.
The specialists employed in the will create a database of vacancies in the Romanian-Bulgarian cross-border area, will assist the target group enrolled in the elaboration of quality resumes in Romanian, Bulgarian or English (as requested by the employer); Will advise the beneficiaries of the target group in developing an optimal career development plan. Also, in collaboration with the coordinating expert, training activities will guide the members of the target group to participate in one of the courses provided in the project.
Periodically, meetings will be organized within the Center between potential employers and job seekers. A database of employers will be created, partnership agreements will be concluded with them, job fairs will be organized, vacancies will be posted on the Career Center website and on the Facebook page of the project.
The experts of the Romanian-Bulgarian Career and Recruitment Center will collaborate with the members of the implementation team in order to organize and carry out the study visits in Romania and Bulgaria; Enrollment for attendance at study visits will have priority for students residing in the implementation region.