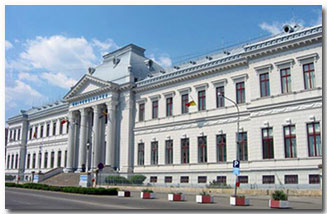 The project is implemented under the Romania-Bulgaria Cross-border Cooperation Programme and it falls within the Specific Objective 4.1/ Encouraging the integration of the cross-border area in terms of employment and labour mobility.
Project implementation duration: May 2017- April 2019
Project manager: Senior Lecturer Mihaela Tinca Udristioiu, PhD
The project will be implemented in partnership between:
the University of Craiova (leader and project promoter),
the D.A. Tsenov Academy of Economics (partner from Bulgaria),
the Regional Development Foundation NGO (partner from Bulgaria).
The main objective of the project: increasing employability by developing workers' professional skills and ensuring contact between the employer and the unemployed person.
Expected results:
12 vocational training courses (6 of which are postgraduate courses – accredited by the Ministry of National Education);

1 interactive website;

1 job fair;

400 participants in joint local and employment initiatives;

300 participants in joint education and training programmes, providing performance equipment to the facilities for the postgraduate courses studied at the Faculty of Sciences, University of Craiova.
The amount of the European Union contribution: 550.880,52 Euro.
Also you can visit our Facebook project pages, A Chance for Development Facebook page or Шанс за развитие - обучения и консултации за безработни лица