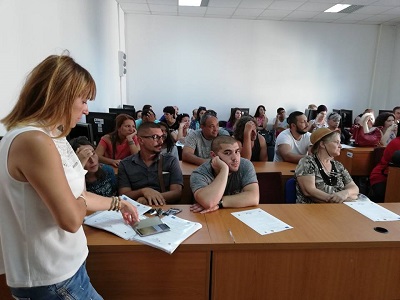 On September 10 til 12th, 2018, unemployed and jobseekers from Vidin region made a second visit to Romania. During this period, entrepreneurship education and social economic structures and businesses were visited in Romania for the purpose of entrepreneurial skills, meetings with potential employers for the exchange of experience.
On September 10, entrepreneurship training was delivered to the participants by professors from the Craiova University.
On September 11, participants divided into 2 groups visited the Ford production factory and the meteorological service in Craiova. Visitors were provided with information on how the activity started, career opportunities and cooperation, etc.
On September 12, the participants visited Arhi Design, a stationery manufacturer in Craiova. There, they have been familiar with the career opportunities in the enterprise, the technological processes and how they started their activities.
The initiative is part of the " A Chance for Development" project, implemented by the University of Craiova, in partnership with the Academy of Economics - Svishtov and the Regional Development Foundation.
The project is implemented with the financial support of INTERREG V-A Romania-Bulgaria and the national budgets of Bulgaria and Romania.