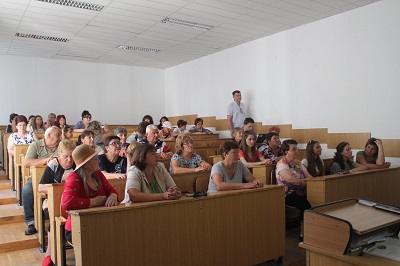 In the period of 10 - 12 September 2018, unemployed and jobseekers from Vidin will make their second working visit to Romania. It is planned to visit socio-economic structures and enterprises in Romania in order to acquire entrepreneurial skills, meetings with potential employers for exchange of experience.
On September 10, participants will have the opportunity to visit Craiova University where they will be involved in entrepreneurial skills training.
On September 11, participants will visit Ford's Car Production Factory and the Meteorological Service in Craiova. Visitors will be provided with information on how the activity has begun, career opportunities and cooperation, etc.
On September 12, participants will visit Arhi Design, a stationery manufacturing company in Craiova. The goal is for visitors to learn about the opportunities to start a business in this area, career opportunities, through exchange of experience and good practices in the entreprise.
The initiative is part of the " A Chance for Development" project, implemented by the University of Craiova, in partnership with the Academy of Economics - Svishtov and the Regional Development Foundation.
The project is implemented with the financial support of INTERREG V-A Romania-Bulgaria and the national budgets of Bulgaria and Romania.