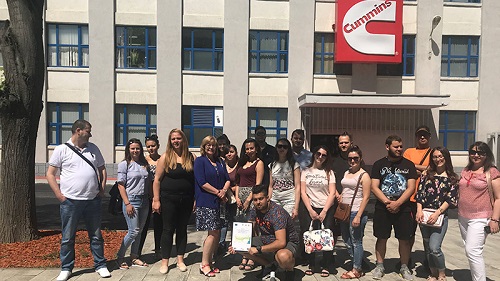 The second study visit of the target group from Svishtov took place between May 30th and 31st, 2018 in Craiova, Romania. During the two days, two real-time visits were carried out at manufacturing sites in the city.
On May 30, 2018, the project participants had the opportunity to visit a factory, which manufactures complex technical equipment and heavy-duty machinery for the energy, metallurgy, mining, wood, pulp and paper industries. The manufacturer exports 90% of the production to Craiova. During the visit, the members of the target group had the opportunity to get acquinted with the company's production, used machinery and facilities, and the organization of the work. A detailed presentation was delivered about the company, the products line and its main clients after the visit.
On May 31, 2018, the target group visited a second enterprise in Craiova, whose business is manufacturing electrical generators and components, performing demolition services as well as restoration work. After comprehensive safety briefings and the provision of special protective clothing and shoes, the members of the target group looked at the company's production facilities. During their visit, they were given the opportunity to observe the production process and to familiarize themselves with the operations performed by the staff of the company and the machines. There was also a presentation of one of the main generators that the company uses to meet its own energy needs.
On the same date, a press conference was organized by the implementation team of the Lead Partner of the project - the University of Craiova. It presented the activities carried out so far and the results achieved. Participants in the press conference were Assoc. Prof. Dr. Anelia Radulova and Assoc. Prof. Dr. Galina Zaharieva - project experts from "D. A. Tsenov " Academy of Economics - Svishtov, as well as representatives of the target group. During the press conference, Assoc. Prof. Radulova delivered a speech highlighting the main project achievements so far.